THE HOMEPAGE
---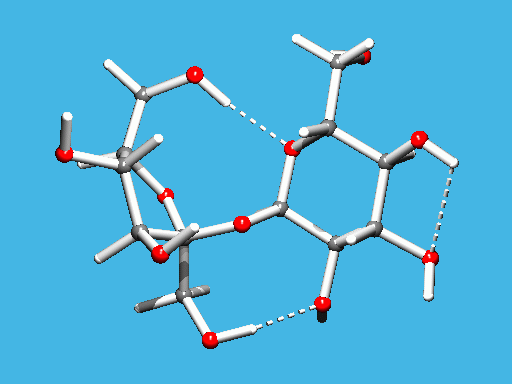 Right: Structure of sucrose prepared with PLATON/PLUTON-POVRAY)
The Program PLATON is designed as a Multipurpose Crystallographic Tool.
(C) 1980-2021 A.L.Spek, Utrecht University, Utrecht, The Netherlands.
References
A.L.Spek, J. Appl. Cryst. 2003, 36, 7-11
A.L.Spek, Acta Cryst. 2009, D65, 148-155
A.L.Spek, Inorg. Chim. Acta 2018, 470, 232-237
A.L.Spek, Acta Cryst. 2020, E76, 1-11

The PLATON Homepage gives pointers to all information available on the program PLATON.
Download Site:
http://www.platonsoft.nl/xraysoft/

The CheckCIF functionality within PLATON forms part of the IUCr Small Molecule Crystal Structure Validation Project.
---
PLATON Questions and Answers
WHAT IS PLATON AND HOW TO GET STARTED
WHAT IS PLUTON AND HOW TO GET STARTED
WHAT IS SYSTEM-S AND HOW TO GET STARTED
HOW DO I GET A COPY OF PLATON.
IS THERE A LINUX VERSION OF PLATON

IS THERE AN MS-WINDOWS VERSION OF PLATON

ANYTHING

SINCE LAST TIME.
---
PLATON Program Sections and Information Tree
Most information on PLATON (instructions, examples etc.) is organised in a tree structure, starting from the PLATON Homepage. The information tree in available either with the choise WEB-browser through the PLATON Homepage or from PLATON by right-button mouse clicks on menu items, assuming that NETSCAPE is accessible from within PLATON.
Below are the seven main branches. Each branch sprouts more braches. Use the UP button to backtrack to the higher level (closer to the homepage).
(See PLATON MAIN MENU DISPLAY , GUI and SHORTCUTS)
---
Program Intro's and Manuals may be found here
---
Last change 05-Jul-2020